Category:
Special Needs Adoptions
Adoptable Dogs
Adoptable Cats
Featured Pet
Miss Kitty (M.K. for short)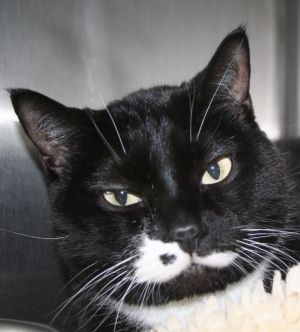 DOB approx 3/16/12 Hello. I'm Miss Kitty (M.K. to my friends). I am the epitome of cathood, regal and independent. I have no idea what I am doing in this place when I clearly belong in a comfortable home with humans serving my every need. Like many others of my kind, I require time and patience while I adjust to changes in my life and living environment. I may keep to myself until I decide that your home is an adequate haven for me, especially after having been in this disturbingly busy and noisy shelter for so long. I'm not comfortable with dogs or young children, so a quieter, adult home would be my preference. I am also, as are all sophisticated ladies, selectively affectionate. Not that I'm unfriendly, mind you. I just expect you to prove yourself worthy of my trust and affection. But when you do, I will be happy to lounge about the house with you and even indulge my playful side with a bit of feather toy play. Because the good people here realize that I should be in my own home where I can be properly indulged, they have reduced my adoption fee to a mere $9! Visit http://www.greatriverrescue.com/adoption-2/ to learn more about adopting me. Adult, Female, LargeVisit http://www.greatriverrescue.com/adoption-2/ to learn more about our adoption services.
CatCam
View our LIVE cat colony webcam!
Fun Facts
It is important to have a plan for your pets in case of a disaster. Check out http://www.ready.gov/caring-animals to learn how you can be prepared.
Latest Facebook Posts
Great River Rescue houses approximately 70 homeless dogs and cats while a suitable forever home can be found. The shelter provides quality care the animals, spays and neuters all animals, and helps educate the public on pet care. The shelter is funded by community donations, and service fees.
Great River Rescue
1 week ago
Happy Tail Tuesday - Here is Ueli's(Thor's) story:

Ueli (Thor) has been such an amazing partner in this adventure called life. I just wanted to share his accomplishments and our plans for his future:

Ueli spends every day among several doggy friends at the Canine Country School (CCS) where I am doing my animal training apprenticeship. The CCS is a training/boarding facility for dogs, which means Ueli meets new dogs almost every day. He loves playing with his friends during hikes, river runs, and just lazy afternoons in the yard.

He's also met bunnies, horses, alpaca, and cats since his adoption and wants to play with every species he comes across.

Outside of his 4-legged pals, Ueli has yet to meet a human that he isn't immediately friends with. In fact, he does so well with people that he has received his Canine Good Citizen Certificate and is currently in the middle of Therapy Dog training. He's a huge hit at the local nursing home.

Ueli is also being trained as a service dog for my chronic back pain. He's learning to retrieve items for me, help me to sit or stand, and brace when I am in need of stability. He's basically an all-star!

For his free-time away from CCS, Ueli enjoys car rides, camping trips, and long hikes in the Colorado Rockies. I can not imagine what this move would have been like without him and feel truly blessed to have ended up with such an amazing fur-ever friend.

Thank you to everyone at Great River Rescue for all that you do! We miss you!!