Category:
Special Needs Adoptions
Adoptable Dogs
Adoptable Cats
Featured Pet
Eclipse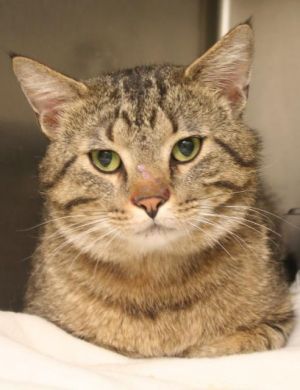 Please note I tested positive for FIV (Feline aids) I can live in a home with other cats but please be aware that FIV can be passed on through bite wounds DOB approx 5/10/15 Hi! I'm Eclipse. I am very sweet and loving boy and I am looking for my new forever home. I love to be rubbed and cuddled. I also love having my head and chin scratched. I like to talk a lot and play with my toys before relaxing in a very nice cozy place for a nice long nap. My biggest wish just like Bluefish and CJ here at the shelter is to find a new and loving home. We need and want love just as much as the everyone else . If you want to be the family that gives me a loving home for the rest of my life please stop in and see me.Visit http://www.greatriverrescue.com/adoption-2/ to learn more about our adoption services.
CatCam
View our LIVE cat colony webcam!
Fun Facts
About twice as many animals enter shelters as strays compared to the number that are relinquished by their owners. -data taken from ASPCA.org
Latest Facebook Posts
Great River Rescue houses approximately 70 homeless dogs and cats while a suitable forever home can be found. The shelter provides quality care the animals, spays and neuters all animals, and helps educate the public on pet care. The shelter is funded by community donations, and service fees.
Great River Rescue shared Lakeland News's post.
5 days ago
Thank you to Nature's Connection for teaching us so much about these awesome birds. The kids loved it!

Check out this Lakeland News story about our summer camp and all the things the kids are learning.
Lakeland News
Great River Rescue and its Happy Tails Camp lets kids spend time with animals and learn how to care for them. Watch the story below and you'll see some cameos from a falcon and owl!!