Category:
Special Needs Adoptions
Adoptable Dogs
Adoptable Cats
Featured Pet
Meryl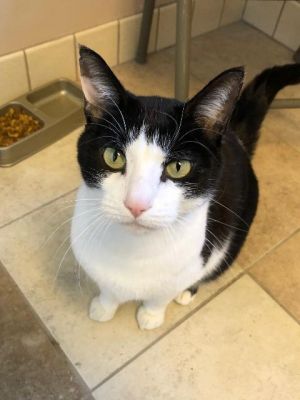 (Note: I tested positive for FIV (Feline Aids). I can live in a home with other cats, but please be aware that FIV can be transmitted to other cats through bite wounds. FIV CANNOT be passed from cats to humans. For more information on FIV, please visit https://catfriendly.com/feline-diseases/fiv/ ) Hi! I'm Meryl. I'm a big boy looking to fill the empty furry space in you heart with love. I'm Playful, affectionate, and friendly to just about everyone I meet in life. I don't like those furry monstrosities called dogs so a home without them would be best for me and with me around who needs a dog. I'll fill your life with so much joy you'll wonder why you didn't add me to your family soon. If you are looking for a cat like me please stop in and see me, so I can fill you full of love... and hair.Visit http://www.greatriverrescue.com/adoption-2/ to learn more about our adoption services.
Fun Facts
Great River Rescue depends greatly on volunteers. Each month volunteers log about 150 hours of service.
Latest Facebook Posts
Great River Rescue houses approximately 70 homeless dogs and cats while a suitable forever home can be found. The shelter provides quality care the animals, spays and neuters all animals, and helps educate the public on pet care. The shelter is funded by community donations, and service fees.
Great River Rescue
3 days ago
Our fourth and final volunteer judge for the art contest is Trish Barthorpe. Trish Barthorpe is a professionally trained photographer who lives and works in the Bemidji area. Her husband, daughter and dog make up her small family. After graduating from a professional photography school in Southern Minnesota, she started her career photographing children and small families in a fast-paced studio located in a local mall.
Trish longed to become her own boss and worked quickly toward that goal. Opening up a studio of her own in 1998, Trish made a name for herself creating art from life for area families. Creating treasured heirloom portraits for her clients makes her stand out from the crowd.
Trish has become an award winning photographer by never sitting back on her heels. She is always finding new and meaningful ways to leave something for future generations to look back on with pride—the driving force behind everything she does. By giving back to others through fundraisers, special events and charity auctions, Trish keeps herself firmly planted in the community. She is honored to have her portraits grace the homes of those she works.
Visit her website to learn more at
www.photobytrish.com
Submissions for the contest are due by Saturday.